 Virtual Product Modelling
Virtual product development (VPD) gives engineers a superior comprehension of the attributes of a product's performance while eliminating design issues. By utilizing virtual models to recognize issues or execution gives from the get-go into the product development process, issues can be amended rapidly.
How Virtual Product Modelling Works
Virtual Product Modelling is a computer generated 3-dimensional image of an object, usually a product, building or any physical object that can be worked upon for purpose of testing and validation through simulation and a digital prototype developed quickly. It can be created on a computer by using a special software. Once created, the virtual model can be saved, worked upon, dimensions altered, additions and deletions made and the 3D virtual prototype is ready. Imagine creating a design of a portable fan with three blades, add one more blade to make it four, or remove a blade and just leave two, run it at various speeds and measure the airflow and decide the final design based on the result. All this and more can be simulated, the material strength calculated, and depending on it, appropriate gauge of sheet used. Once the design is frozen, a physical prototype can be made, by 3D printing or other methods.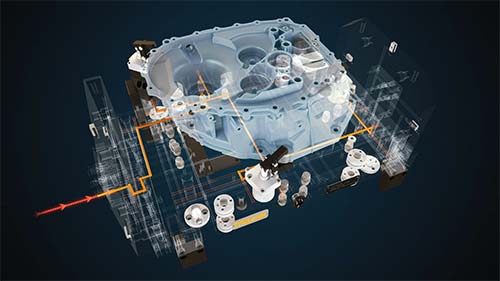 Key Benefits
One of the biggest advantages of 3D virtual product modelling and digital prototyping is faster time to market. With virtual simulation and testing, the process of designing a new product is much faster and changes can be made without losing time while design optimization is achieved simultaneously.
While there are several benefits of Virtual Product Modelling, the key benefits may be summed up as:

Better, more functional designs
WithVirtual Product Modelling, one gets better designs with 3D virtual modelling services as the model lends itself to virtual testing and validation, allowing shapes that save on materials which also results in light weighting of the product or component, which is an important product attribute today.

Faster time to market
One of the biggest advantages of 3D virtual modelling and digital prototyping is faster time to market. With virtual simulation and testing, the process of designing a new product is much faster and changes can be made without losing time while design optimisation is achieved simultaneously.

Cost competitive
Virtual Product Modelling is highly efficient with lot of design variations tried and tested to arrive at the most optimum, in a relatively short time. Any change, alteration, variation, addition or modification can be made online, checking, rechecking, testing and analysing in real time. This also saves on costs, besides saving time.
Apart from these key advantages, there are several others like better control and accuracy, wider design choice, greater customer satisfaction and keeping with the current trends, mass customisation as opposed to mass production.
All-round View
A 360-degree perspective on the product model permits seeing the product from all points, seeing the little subtleties of it, and better planning for production and packaging. Creative and interactive 3D modelling in product design permits the clients to zoom the item in and out, turn it and view from various plots for better visual articulation.
Ideal Application Areas
In the era of Digital Twins, 3D product modelling can be applied not just to products but also entire systems. Singapore, for example, has a Digital Twin of itself replicating the complete Nation State, e.g., testing the viability of a new pedestrian bridge to fit into the existing landscape before deciding the exact location on actual crowding of people. So from a small product that can fit into the palm of the hand to an entire city, VPM has millions of applications.
Products
From miniature motors to large power turbines, all types of products can be designed from scratch through Virtual Product Modelling service as the process is basically the same, only the scale is different. The design process starts with a shape with parts added and removed as the design progresses. Compared to traditional methods, VPM is much faster and versatile, the digital storage making it convenient to store and retrieve designs at will. Virtual prototypes are also convenient to store and transferred online.
Machinery
For Industrial Machinery – machines manufactured as products as well as those used in production – Virtual Product Modelling facilitates multiple designers to work simultaneously. These machines comprise of different parts and assemblies – pumps, motors, generators, machine tools, special purpose machinery to quote a few examples – and the designs call for collaboration in the virtual space, each designer working on a different part or sub system, which are later put together as a whole in proper digital prototypes.
Equipment
There is a wide range of supporting equipment deployed in a typical manufacturing – trolleys, stands, and a whole range of fabricated equipment that calls for regular manufacturing with precise dimensions. Designing such equipment is easy through Virtual Product Modelling and digital prototyping before actual production. Any type of industrial equipment can be designed and optimised based on drawings and sketches, and virtual prototypes made for testing and validation.
Facilities
Virtual Product Modelling is not restricted to design of products, machinery and equipment. Complete industrial facilities – assembly lines, paint shops, tool rooms, welding bays, generator rooms, AHUs, Cooling Towers, Heat Treatment Facilities and Boiler Rooms – the list is endless. Virtual prototyping and digital manufacturing makes these tasks easy as the designs can be customised to exact requirements, the entire complex with all facilities checked for correct layout and measurements, all emergency routes checked and validated before a ground breaking happens in case of green field facilities.
FAQs
How does a customer start the project with thevirtual prototyping company?
Customers usually have a clear idea of what they want so as long as it is communicated effectively, the project can begin. Since this is not a simple buying of an off-the-shelf model, it will need the basic information and the size and dimensions, materials to be used, the product attributes, special requirements if any, among other things. Based in this, the 3D virtual prototyping company can start the work and communicate with the customer at each stage, right from the first draft to the final product, getting approvals, making changes, etc., till the final result is approved.
What are the inputs required for beginning the work and will there be a dedicated team to interact with?
3D product modelling services are manned by domain experts familiar with most of the design inputs ranging from paper drawing or rough sketches or 2D drawings in any of the popular file formats and extensions, or a sample of the product, photo or a picture – anything that conveys the appearance and basic dimensions required. A project, once accepted, is allotted to a dedicated team and there will be a constant communication channel established with the customer's project team for consultations during the work in progress for clarifications in case of doubts or to effects changes of modifications.
What about the quality of the work and the cost of such services?
EAXPRTS has over 20 years of experience in the field of 3D Engineering Animation Services and has done extensive work for global clients in the field of virtual prototyping and digital manufacturing and prototype development. The company has a professionally qualified team of experts with years of experience working on customer projects with an enviable track record of successful delivery. Quality is the defining parameter of success in this.
As for the cost, conventionally any outsourcing of services happens primarily because of the cost factor; or the load factor where companies having in-house teams have to outsource work due to sheer workload. There is no ideal cost comparison template in such cases, but by and large, the cost depends on the volume of work and for the same type of work, outsourced services have the cost advantage.